Open Position: Lecturer in Farm Animal Practice
Post By Karim Adjou

Date 15-10-2019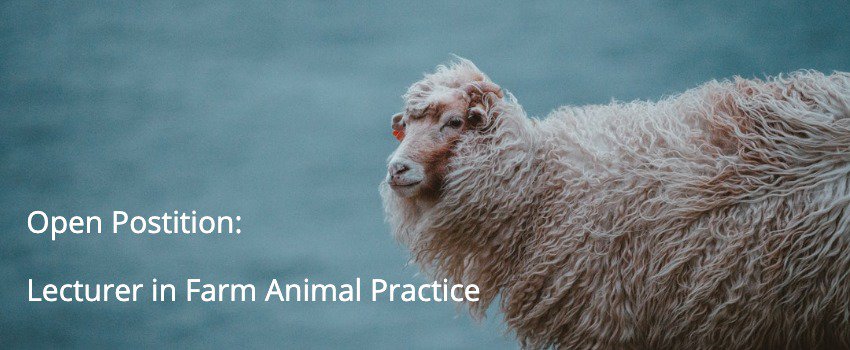 LECTURER in FARM ANIMAL PRACTICE
The Royal (Dick) School of Veterinary Studies at the University of Edinburgh is looking for an enthusiastic and experienced clinician to join our Farm Animal Section.
Our Farm Animal Practice provides first-opinion services to local farms (predominantly beef and sheep, with some dairy, pig and smallholders), along with consultancy and referral work by senior members of the team. We also maintain a Farm Animal Hospital primarily for undergraduate veterinary teaching, but also have isolation hospitalisation facilities for referral cases. We have a mobile hydraulic foot trimming crush, 2 Easiscans, 1 Sector scanner, portable X ray, practice laboratory facilities, bull testing equipment, in house post-mortem and clinical laboratory facilities, as well as full access to advanced diagnostic and surgical facilities when required and assistance from specialist colleagues. RDSVS is an approved institution for both ECBHM and ECSRHM Residency programmes.
Working closely with colleagues, you will be active in the development of the Farm Animal Practice and Hospital, and the provision of its veterinary services. You will teach undergraduate students in all aspects of farm animal husbandry and disease. You will also be involved in, and help develop, our consultancy and referral caseload. The Farm Animal Section has a strong and diverse clinical research programme. This provides opportunity to support development towards a clinical specialism, such as ECBHM or ECSRHM, or continue clinical-orientated research
We are looking for an MRCVS with relevant farm animal experience. Postgraduate qualifications are advantageous but not a requirement. You need to work as part of the team, and communicate well with colleagues, clients and students. You will hold a full driving licence, free from significant penalties, and will be expected to be, or be eligible to become, an Official Veterinarian (Local Veterinary Inspector).
This is a full time position, with a salary scale of £40,792 – £48,677 plus University benefits including 40 days holiday, 1 in 6 on call rota, University pension scheme, childcare facilities, on-site gym, rural campus which is convenient for Edinburgh and with easy access to the Scottish Highlands. Potential for further study/ support for career development, CPD allowance and ample opportunities for in-house training.
For an informal discussion, please contact Professor Alastair Macrae on 0131 651 7474 or A.I.Macrae@ed.ac.uk
Vacancy Ref: 047959
Closing date: 25 October 2019
www.vacancies.ed.ac.uk