Launch announcement – ECSRHM Members directory
Post By Karim Adjou

Date 04-05-2016

Today we celebrate the 1st anniversary of our renewed ECSRHM website and I am happy to introduce a new feature called: the ECSRHM Members directory.

The objective is to facilitate collaboration and information sharing between all ECSHRM diplomates. In addition, the members directory will be a great showcase of the value of our college. Finally you can also see it as an opportunity to publish your work and share your expertise with the community of veterinary specialists.
Key benefits
The members directory is fully searchable. E.g. one can search diplomates by name or search for all diplomates in a certain country.

Members can contact each other easily by clicking on a 'contact me' button.

An interactive geographical map is shown with the location of the diplomate and a link to the diplomate's individual profile page.
All diplomates will receive an email with their personal login name and instructions on how to create a password. Once your account is setup you can make changes to your profile. The new members directory can be found under the 'diplomates' menu on the ECSRHM website. You can also click on the link below.
Your help is needed
The value of the ECSRHM members is dependent on the quality of the information that only you can provide. Therefore I would like to ask you to take a moment and update your own personal page. It will only take 5 to 10 minutes to complete. You can also add a picture and references to your published work. (see example below).
Important! You have to be logged in to update your profile.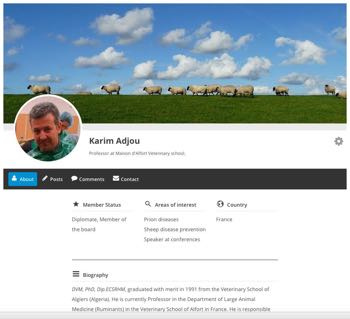 Next Steps
All diplomates will receive an email with their personal login details.

Once a new password has been chosen, you can update your profile page.
More info?
If you need help with getting access to your account or updating your personal profile, a dedicated support page has been created with detailed instructions. Or you can send an email to webmaster@ecsrhm.eu.
I wish you a great spring season and I look forward to seeing a lot of updated profile pages in the coming days and weeks.
Kind regards,
Karim Adjou
Responsable ECSRHM website