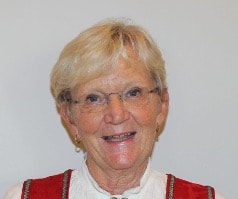 Martha Jakobsen Ulvund
Professor Martha Jakobsen Ulvund died 10th of April this year 2022 – 76 years old. Martha was born in 1945 and finished her veterinary degree from the Norwegian School of Veterinary Science in 1969. She started working with small ruminants in 1973 at the State Veterinary Research Station for Small ruminants (now Section for Small Ruminant Disease and Herd Health at the Norwegian University of Life Sciences). She finished her PhD on "Tumours and immunity" in dogs in 1974. In 1990 she finished her Dr. med. vet. degree with a thesis titled: "Ovine white-liver disease. Manifestation of cobalt/vitaminB12 deficiency in lambs". In 1993, she became a professor in sheep and goat diseases at the Norwegian School of Veterinary Science, that later became part of the Norwegian University of Life Sciences. She was the head of the section for 16 years, till the end of 2013, when she retired. From 1979-1981 she was a senior research officer at Veterinary Investigation Laboratory, Karatina, Kenya. A stay that she remembered with joy and happiness. She became a founding diplomate of ECSRHM in 2008 and later also an honorary member of the College. Martha was the head of the organizing committee for the 7th International Sheep Veterinary Congress held in Norway in 2009.
During the last 20 years her scientific work mainly focused on prion diseases in sheep. She published around 60 scientific papers in peer reviewed journals. She was involved in several academic and scientific committees, nationally and internationally. She was also active in local politics for nearly 30 years, as member of the labor party. Due to her great contribution in scientific research, politics, organizations, and social community she was awarded the Order of Saint Olav, Knight of 1st Class by the King in 2014. After she retired, she was still very active especially in the local community and politics, also after she became severely ill in December 2020.
Martha was a visionary and an outspoken feminist. She created a solid fundament for future development of the section in Sandnes. Martha had a wide network both nationally and internationally and had an honest interest in others and a passion for the profession. She was always active, enthusiastic, and interested in work related to the health and welfare of sheep around the world. Martha was an inspiration for all. It`s a great loss for our scientific community.
Snorre Stuen and Cecilie Ersdal