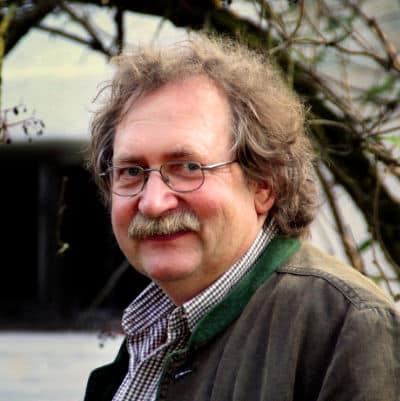 Heinz Strobel
Inconceivably for all of us, Heinz Strobel died suddenly and unexpectedly on October 25, 2022, at the age of 66. With him, we lose a good friend and highly esteemed colleague, a committed and tireless ambassador for the interests of animal health and sheep farming, a cosmopolitan and a versatile person who left a lasting mark on many of us.
After studying and earning his doctorate in Munich, he initially worked in mixed practice. Since 1990 he has specialized in sheep. He was a sheep farmer himself, and in his veterinary work he always combined the latest scientific findings with solid practical work for the benefit of animal health. One example of this is his commitment to the treatment of footrot and to replace traditional, outdated treatments with scientifically based methods. Despite the demands of a busy large animal practice he also initiated numerous research projects. The education, training and the constant exchange between veterinarians and sheep farmers were of great concern to him. He was always happy to pass on his knowledge and wealth of experience to animal owners and colleagues. His typical dry, humorous lecturing style motivated a wide audience to widen their knowledge of sheep health. The education of young colleagues was particularly close to his heart, and many a "newcomer" was surprisingly greeted at conferences with a firm handshake and the words "It's great that you are interested in sheep!". This open manner made a lasting impression on many. He thus became a mentor to many who were interested in sheep practice.
Amongst other commitments, Heinz Strobel served on the Board of Directors of the German Small Ruminant Veterinary Association from 2012 to 2018 and was first Chairman from 2014 to 2016, he was long-time Foreign Representative of the British Sheep Veterinary Society, and currently Vice President of the International Sheep Veterinary Association. In 2021, he handed over his practice to his long-time associate, but remained professionally active. He remained open to everything new and was always searching for improvements. Above his desk hung an admonition written by himself: "No new projects". Very soon, however, he had covered it with concepts for new plans. Shepherding in all its aspects was his passion. It was his joy and fulfillment.
His cosmopolitanism, joie de vivre and hospitality are known beyond the borders of Germany, almost legendary the pre-conference tour he organized for the Sheep Veterinary Society meeting in Hannover in 2006, and his love for historical instruments and old shepherd music. Together with his wife Barbara, he enjoyed providing evening entertainment with these. Above all his work was his typical modesty, and he did not like to put his person in the foreground. However, he loved it when the cause could be advanced through his actions.
Heinz, we miss you! We have lost a friend. A friend who was so many things: veterinarian, shepherd, farmer, musician, author, sometimes philosopher and above all irreplaceable human being.
He will be sorely missed, and our thoughts are with his family and Johanna Hilke, the successor of his sheep veterinary practice.
His colleagues from Germany